RayneKirby wrote:

ohhh i so love these!!! wicked work on them alllll
Thank you, Kirby. Glad you like my work.

Emissary wrote:

Brilliant work there Llama Man.  
Thanks, M&M Man.

Hope you like this update, too.
Necroleaf wrote:

These look fantastic Lomeli!
Well done
Thank you so much, Necro.
MrsGrizzley wrote:

I can't believe that I forgot to comment when I looked at these!!!
Excellent work, Lomeli!!!!!  Truly brilliant!!!!!
Looking forward to what else you manage to come up with!!!
At least you commented eventually, Mrs. G.

Thank you for your continued support.
croc5 wrote:

Very cool Lom!
Thanks, mein freund.
Witch wrote:

Oh Lomeli! I love everything of youre creations!!!
Our version are amazing!!!!!
Great creations!!!
 
Why thank you, Witch. Glad you liked the micros of us.

Mr. Fantasy wrote:

Very good your new micros , so tiny and so beautiful . Congratulations
Thanks for the kind words, Mr. Fantasy.
Alright, new update for you all.
First off, a request I've been putting off, but finally got around to making. RayneKirby wanted to see a modern version of the Headless Horseman of the Sleepy Hollow legend. Took a long time to come up with a decent design, and took even longer for me to get around to making it. However, after much ado, here is...
The Headless Horseman for RayneKirby: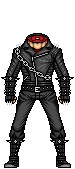 Made him a biker who came back from Hell to mutilate those who put him in the ground.
So, Emissary made this awesome set of micros using some of our fellow members as a cast for a Harry Potter fanverse of his. I've been meaning to get back into writing for a while now, and I figured I'd start with someone else's story, rather than one of my own. Unfortunately, I don't know what the back-stories are for the rest of the characters.

Anyway, I decided to make the character Emissary made for me.
Lomeli Vengador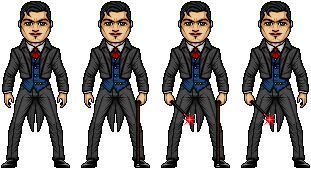 Of Italian and Spanish descent, Lomeli is the newest addition to the MCID after the loss of a previous member. Although born into a poor family, his father would later become wealthy, but Lomeli never forgot the struggles of the less fortunate. He has spent years in Europe, learning languages and cultures. Although his parents are Muggles, you wouldn't know it by the way Lomeli casts spells. Considered something of a prodigy, Lomeli has a variety of techniques, far more than he is willing to share, and a sharp mind, particularly useful to the detective aspect of his work. He is more than willing to prove himself to the members of the MCID.
It's basically Emissary's design with some small edits. The wand now glows red, and I decided the cane he uses isn't necessary; he uses it to fool enemies into thinking he needs it to walk, but is actually much more maneuverable. The cane holds his wand in a secret compartment when he isn't in need of it. It also comes with a few other tricks, though Lomeli is unwilling to reveal them just yet.
Phantom of the Opera:
Erik/ The Phantom
I love the Phantom of the Opera. There, I said it. That said, I decided to make a new micro of Erik. I wanted to mix a few different versions of him, and I wanted him to look deformed and not as if he had been disfigured later in life, though I'm not sure if that gets across in the micro.
DragonBall:
I was, and still am, a huge fan of DragonBall Z. I absolutely adored the series while I was growing up. My closest friend from childhood and I loved to discuss the series for hours on end. Of course I've made my own characters for the universe. My series would take place over one hundred years after the death of Son Goku. It would feature the very last Saiyans in the universe, having been on the run since the destruction of Planet Vegeta.
Zenkai
Zenkai - Super Saiyan Zenkai - Zenkai Hair Cut - SSJ Zenkai Hair Cut - SSJ2 Zenkai - SSJ3 Zenkai - SSJ4 Zenkai
I only intend for the character to reach Super Saiyan 3 during the progress of my series, but I thought it'd be fun to make him as a Super Saiyan 4. Here's a few notes regarding the character: he never loses his tail throughout the course of the series, making it possible for him to eventually reach SSJ4. He also gets slightly taller as a Super Saiyan, growing roughly two inches. He gains another two inches as a SSJ3, and yet another two in SSJ4. I included this to explain why Super Saiyan 4 Goku is suddenly taller than other characters who previously dwarfed him.
*If you guys would like to see more from my Dragon Ball universe, sound off with a comment

*
Fellow member Battleclad showed me his Work in Progress hair earlier today, and I figured I'd give it my shot at shading it. He has generously allowed his work and my gift to him to be used as template for others to use. Here are my efforts at shading the hair.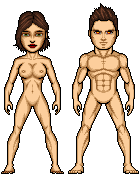 I didn't want to drastically change his work, but I did add more dark lines in the hair and highlighted it. Credit to both of us, I suppose, if you want to use it and give credit. Enjoy.
MIBatman (working title) :
I had so much fun working on the micros of me as Batman and Witch as Catwoman that I decided to expand the set beyond the two of us. Expect more of these in the coming weeks.
Emissary as Matthew Emerson/ The Demon/ Alfred Pennyworth
Current Emissary - The Demon Unmasked - The Demon - The Caped Demon
At fifty years of age, Emerson has long since retired his alias of The Demon, a violent vigilante that acted as judge, jury, and executioner in Gotham City over a decade ago. Still feeling that the city needed a guardian, Emerson began an extensive search for someone capable of replacing him and eventually found the answer in an orphanage where he met 17 year old Lomeli and took him under his wing. Training him for seven years, Lomeli eventually rejected the murderous mantle of the Demon, and became the Batman instead. Emerson, though initially disappointed, agreed to continue to support him from behind the scenes. While Lomeli is out on the field, Emerson relays tactics and information to his protege. In order to conduct business without anyone tying him to The Demon or Matthew Emerson, he took up the alias of Alfred Pennyworth. Emerson was trained extensively thirty years ago by a man named Robert Bradley, better known as Ra's al Ghul.
Bub as Robert Gawlik, Jr./ Nightwing/ Richard Grayson
Robert Gawlik, Jr., better known simply as Bobby was heavily inspired by the mysterious Batman in to fighting crime. He donned a home-made suit and set out to patrol the streets. Initially, he did not come across any crimes or criminals, but that changed one night when he attempted to stop a burglary by a group of thugs. Though catching them by surprise, Bobby was outnumbered and beaten badly. The Batman swooped in and quickly incapacitated the thugs, and drove Bobby to his home after searching his wallet. The two had a conversation, with Bobby asking why he couldn't join the dark knight. Batman responded by telling the younger man that he did this so no one else had to. Bobby gave up trying to be a hero for months. That is, until his father, Robert Gawlik, Sr. was murdered. Furious, he sought out the Batman, asking to be trained by him. Batman hesitates, but eventually agrees to train the young man, leading to months of him pushing Bobby beyond his limits, beating and berating him most of the time. Bobby is not discouraged, and trains diligently. Having completed his training, Batman updates his home-made costume making it resemble the Batman padded armor suit and letting Bobby find and bring his father's killer to justice under the name Nightwing. In order to blend in with the upper class, Lomeli has the identity of Bruce Wayne, but created the identity of Richard Grayson for Robert, allowing him to keep his monogrammed shirts.
Well, that's all for now, folks. I hope you enjoyed the update as much as I did, and I'd love to hear your thoughts on the projects and anything you'd like to see down the line.